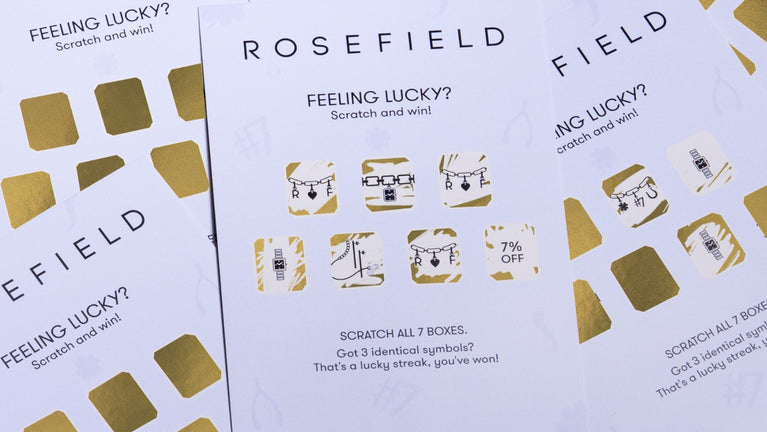 Feelin' Lucky?
Scratch and Win!
Rosefield is celebrating their anniversary. Lucky 7! Get a scratch card with every order this week. Win 77 prizes, worth US$7777.
How to win?
Scratch all 7 boxes. Got 3 symbols in a row? Thats'a lucky streak, you've won!



Rosefield celebrates their 7th anniversary with luck cards! Test your luck and scratch away the special layer of all 7 boxes.
Did you find three identical symbols? Congratulations! You' ve won.
Email a photo of your scratch card to lucky@rosefieldwatches.com
Terms & Conditions:
Each scratch card is unique and can only be used by one winner. Participants must be 18+ or have permission from their parents. The winner must contact Rosefield Watches BV by email and provide a photo of the winning scratch card and the original invoice, plus their contact and shipping details before August 31. The prize the winner will receive will correspond with the symbols on the card. Product will be shipped directly to the winner. The winner of the $350 shopping money will receive a voucher that must be spent at once. Please note, shipping costs will apply. Products won will be shipped directly to the winner. Prizes are non-negotiable, non-transferable and non-refundable. No cash alternative is available. In case a prize becomes unavailable for any reason, Rosefield reserves the right to substitute the prize for a prize of equal value. No rights can be claimed from this scratch card. The promotional code for 7% off is valid until September 25, 2022.